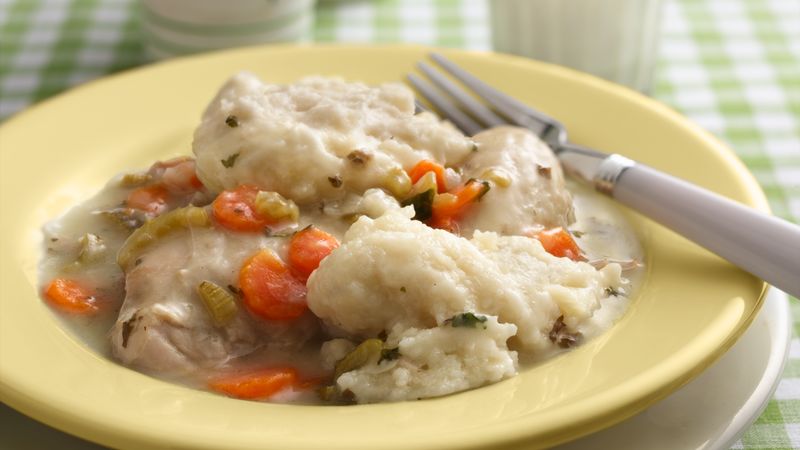 I am so very tired of my own cooking that yesterday I decided to cook something my mom and aunts used to make but I had only made once and wasn't very impressed with the results. I made Chicken and Dumplings. I opted to not go with the Bisquick method of making dumplings as that was the recipe I used years ago.
I got out my grandma's old cookbook, and sure enough, there was a recipe. The only herb or spice called for besides salt and pepper was parsley. Being the herb freak that I am I had to do something about this.
We save all our chicken bones, wing tips and skin and made chicken broth when we run out. I cook it all day, cool it down and make it into ice cubes and freeze it for use. When I made this stuff I put in onions, garlic, celery, carrots and lots of herbs. It is delicious.
I decided to go with this method of herb madness for my recipe. The hubster was taking a nap while I did this and when he got up he asked, "what are you cooking? It smells great!."
I had told him that morning that I was making C & Ds. I reiterated.
I posted on FB that I had done this and got several replies of "yum, yum", and one request for the recipe. I have typed that up as best as I could. I will tell you this. I added two cubes of my homemade chicken broth and some dried onion flakes and garlic flakes. That is the only difference.
Chicken and Dumplings
One whole chicken cut up or your favorite pieces
1/3 cup chopped onion 1/3 cup chopped celery 1/3 cup chopped carrots
1 garlic clove minced Saute all this stuff in a large cooking vessel. Take off heat.
Add the chicken. Cover the chicken with water.
Add some crushed sage, thyme, parsley and salt and pepper.
Cook on low heat for 1 ½ to 2 hours depending on how you like your chicken.
12 minutes before serving…
1 ½ cups flour, 3 tsp baking powder, ½ tsp salt. Sift this three times. Add ¾ cup milk and a tsp minced parsley.
Open up the pot and be sure it is close to boiling. Dip spoon into the broth and then lift a spoonful of the dumpling mixture into the pot. Dipping the spoon insures that the dumpling comes off the spoon. Repeat until all the dumplings are in the pot. Turn the heat down, cover and cook for 12 minutes. You can thicken the gravy leftover if you wish but I like mine thin.
I have to say that I will probably make this again. I don't anticipate changes because it was quite delicious if I say so myself.
Photo was not taken but supplied through Google Images.